Teeth Whitening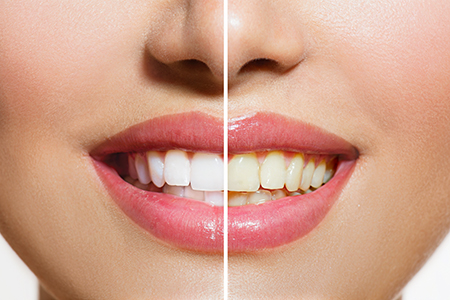 Why should I whiten my teeth?
In today's society, a bright white smile is desirable because it indicates a sense of good oral health. A smile with brighter, whiter teeth is more complementary to the skin tone and innately inviting/visually pleasing to the eye.
---
How white should my teeth be?
How white teeth should be is a question dentists get all the time. We see pictures which have been manipulated with image-editing software and celebrities who have paper-white teeth and think that we should strive for that level of whiteness. The truth is that level of whiteness in teeth can end up looking strange because our teeth are not naturally that white to begin with. When it comes to cosmetic teeth whitening, Rockford Family Dental generally recommends matching the color of the whites of your eyes (or slightly brighter) for the most natural whitening affect.
---
How long does whitening take?
How long teeth whitening takes depends on the products used, the level of whitening you would like to achieve and how far away from that goal you are.
The in-office cosmetic whitening treatments at Rockford Family Dental provide the fastest and best level of whitening, please contact our team today so that we can help identify your teeth whitening goals, assess where you are currently and lay out a plan for how long it will take to achieve the desired level of whiteness.
---
How can I whiten my teeth?
There are many different teeth whitening products and systems out there today, including over the counter toothpastes, whitening strips, gels and rinses, trays and inserts, as well as in-office whitening and products which are available directly from Rockford Family Dental.
---
Can everyone whiten their teeth?
Rockford Family Dental can help identify whether or not teeth whitening is right for you. Cosmetic whitening is typically ideal for individuals who have healthy teeth and gums; a natural yellow tone to the teeth seems to respond the best to whitening. It is important to note that restored teeth with fillings, crowns or bridges cannot be whitened in this way and whitening should be avoided.