Invisalign Clear Aligners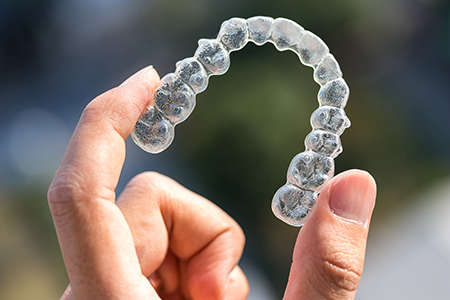 Rockford Family Dental provides dental corrective, teeth straightening options in a variety of ways.
---
Invisalign
If the idea of metal braces doesn't seem right for you, Invisalign may be just what you've been looking for. With Invisalign, you don't have to hide your smile because it works invisibly, without metal brackets or wires, using a series of removable aligners to gradually straighten your teeth.

The advantage of wearing clear, removable aligners is the ability to brush floss and clean your mouth.

Wearing the aligners 24 hours a day (except during eating, brushing, and flossing), the aligners are created to gradually move you towards the next step of straightening your teeth. There is nothing more for you to do than to swap to your next, new aligner every 2 weeks, watching as your teeth become straighter week to week. Rockford Family Dental will generally schedule visits with you every 4-6 weeks to monitor your teeth straightening progress and make adjustments if necessary.

Average treatment time with Invisalign is about 11 months but can be as short as 6 months. The process starts with a consultation to see if Invisalign is the right option for you. After making an initial diagnosis and mapping out a course of corrective treatment, Rockford Family Dental will send the impressions of your teeth to Invisalign where they are further analyzed, taking your teeth from their current misalignment to the end result you've been waiting for -- beautifully aligned, straight teeth you can be proud to show off.

Contact Rockford Family Dental today with your questions or to schedule your consultation to learn more about what we can do to help get you straighter teeth in as little as 6 months with Invisalign.