Dental Implants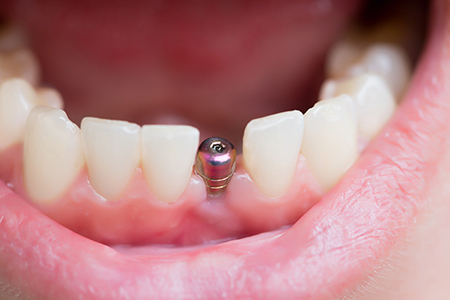 If you're looking for dental implants in Rockford, look no further than Rockford Family Dental.
---
General Dental Implant Information
At Rockford Family Dental, Dr. Mirza always striving to know the latest trends and innovations in dental implant and cosmetic dentistry.
Dental implants are used when there is need to replace the roots of teeth. Dental implants can also be used to anchor a single cosmetic dental crown or crowns, a bridge or a denture. Finding the right dentist in Rockford for teeth implants can be tricky, we hope that you will let our team help guide you through the tooth implant or teeth implant process.
Click here to read our FAQ's regarding implant healing and what might cause them to fail
.
---
Dental Implant Material & Size
Dental implants are usually screw shaped implants made from pure titanium. Titanium is used because of its almost unique property of fusing directly to bone a process called Osseointegration. Implants are typically 3-6mm diameter and some 7-18mm in length.
There are three parts to an implant;
The implant itself which is inserted directly into bone
The abutment an interconnecting part crossing the gum and connecting the implant to the prosthesis overlying crown or denture made from titanium, gold or ceramic.
The prosthesis either crown, bridge or denture
---
Dental Implant Crowns
A dental crown supported by a dental implant is the simplest form of treatment. The implant is commonly used as a cosmetic (both aesthetically and structurally) tooth replacement, for a tooth that has been lost by trauma, decay or fracture. A dental implant usually comprises three parts; the implant fixture (the part embedded in bone), the abutment which crosses the soft tissue (gum) and which connects to the crown. Most commonly a single implant is used to restore a single crown.
---
Dental Implant Bridge
A dental bridge is used when the teeth on either side of one or more missing teeth are crowned and the crowns linked to each other via another crown called a pontic. This is a cost effective way of replacing missing teeth and before implants was the only way of providing a fixed replacement for missing teeth. An implant bridge uses implants instead of natural teeth to support a bridge spanning missing teeth. Design of bridge, and placement of implants is determined by Dr. Mirza as to what is needed to provide a stable bite. Implant bridges may be cemented on to abutments making them permanent and difficult to remove without damage to the bridge or retained by small screws that the clinician may remove
---
Dental Implant Dentures
In simple terms a bridge only replaces the crowns of the teeth. When teeth are lost the gum and bone will recede (shrink back) over time as it is no longer needed to support teeth. In order to replace missing teeth with bone loss, a prosthesis is needed which also has a proportion of artificial gums usually made of pink acrylic or porcelain. Implant based dentures can be made. These may be held in by press-stud type or bar attachments making them removable for cleaning. Alternatively small hidden screws may fix the dental denture in place. These can be readily removed by a clinician for cleaning and maintenance.